Back to News
2020-21 Southwestern Ohio EPC/OME-RESA Bus Purchasing Program
Posted 10/08/20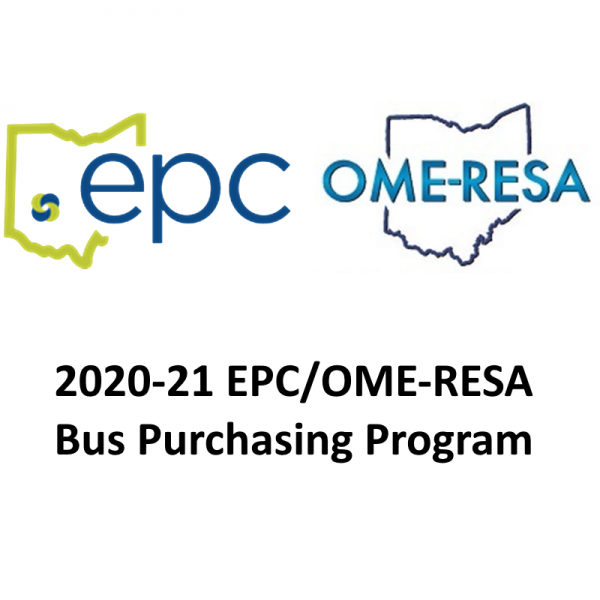 School Districts that are interested in possibly purchasing school buses in Fiscal Year 2020-21, and wish to participate in the bidding procedure with EPC/OME-RESA should complete the Bus Purchase Survey. Completing the survey does not obligate districts to purchase busses through the EPC/OMERESA. Bids will be opened in the EPC Office for participating districts. Results will be e-mailed in Excel format to the email address given in the survey.
Bus Purchase Survey – Please click here to fill out the online Bus Purchase Survey.
Board Resolution –Your district must pass a Board Resolution prior to purchasing your bus(es). Click here to view a sample Board Resolution. After this resolution is passed, please send OME-RESA a copy at coop@omeresa.net .
Trade Ins – If you will have Trade Ins, please list the information on our Online Trade In Spreadsheet here. If you will not have any Trade Ins, let us know via email. By sending us the requested information you are NOT committed to purchase or trade anything in. You will simply be receiving bid pricing and information as well as offers for your Trade Ins. If you are unable to access (or prefer not to use) the online sheet you may email the information to us. We need: District ID, State ID, Passenger Capacity, Year of Bus, Type (Conventional, Transit or Handicapped), Type of Brakes, Chassis, Body, Engine, Transmission, Mileage, a Yes or No if the bus is running and mention any known problems. (If you prefer, email us and request that we send you the Excel Version of this form to fill out.)
Tentative Bus Purchase Calendar – Click here to view the (tentative) timeline for this year's bus purchase program.
All of the above links and information can be found on the EPC Bus Page at: www.epcschools.org/bus.html. Bus Bid Specifications and Bus Options will be posted soon. If you have any questions on how the EPC/OME-RESA Bus Purchasing Program works, email coop@omeresa.net and we would be happy to assist you.